Lawn Fertilization Cedar City and Enoch Utah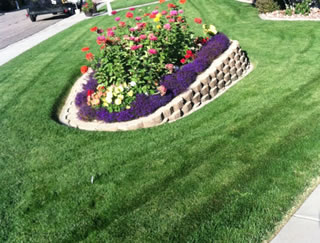 A Healthy Lawn Needs More Than Sunlight and Water To Thrive!
We specialize in lawn fertilizing and regular feeding for lush, healthy growth.
Did you know that the nicest looking lawns throughout Cedar City and Enoch usually have a thing or two in common. First, they are usually all properly maintained by professional landscapers who know exactly how to care for a lawn and secondly they are probably implementing some type of regular feeding and fertilization program to keep the lawn in a very healthy, lush, green state.
What To Expect From Our Lawn Fertilization & Weed Control Program:
We provide 6 liquid applications (March-October) roughly 5 weeks apart.  Our average lawn (2900 square feet) cost $49.47 per application.
Each spray has 3-7 different products in it and is blended specifically for that time of year, for the grass types we have in the Cedar City area.
Included in one of the sprays is a preventative product to minimize the chances of having grub issues in your lawn.
At each visit we will spray the entire lawn, and let you know if we see areas of concern.  From watering issues, to grub damage, to areas that need to be reseeded, we will communicate with you and let you know our recommendations.  This program is designed to keep your lawn green, healthy, weed free, and thick.  If that's what you're looking for this is likely a great option for your needs.
Cedar Lawn Care is a family owned and operated local lawn mowing and maintenance company based out of Cedar City, Utah.  We specialize in lawn fertilization services as part of our regular lawn mowing programs or as a standalone service for both residential and commercial clients.
We can provide lawn fertilization for properties like HOA's, townhomes and other residential developments too.  Backed with over 15 years of lawn care experience and our rock-solid, service satisfaction guarantee you can't go wrong when you choose Cedar Lawn Care to take care of properly feeding your lawn!
Lawn Fertilizing Services Cedar City and Enoch Utah
Scheduled Lawn Fertilization
Commercial Lawn Fertilization
Public Facility Lawn Fertilization
Lawn Aeration Service
Lawn Restorations and Patch Repair
What Does Your Lawn Actually Need For Fertilizer?
Like all plants, your lawn thrives on the elements NPK.  This stands for Nitrogen (which is good for lush green vegetative growth), Phosphorus, and Potassium.  Your grass requires these elements and many other trace elements in varying amounts throughout the year.  For example, in the spring when rapid growth is happening very quickly your grass will need lots of Nitrogen, moreso than other elements.  Knowing this important balance of nutrient requirements makes a big difference in how effective your lawn feeding strategy will be.
Fertilizer isn't just a one time thing either… If you want a healthy looking lawn then it needs to be fed regularly usually in 4-6 week intervals for the best results.  There are literally thousands of lawn fertilizing products on the market but there are only a select few that work exceptionally well in Utah.
Why Choose Cedar Lawn Care For Your Lawn Fertilization?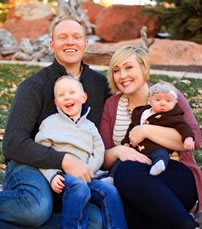 When you choose Cedar Lawn Care you are partnering with a small, locally owned and family run business.  We're large enough to take care of all your lawn feeding and lawn maintenance needs but we're still small enough to give your lawn the specific care and attention it deserves.
We believe in providing good value and complete customer satisfaction through a job well done.  Our employees are expertly trained and will conduct themselves like true professionals on your property.  You be the judge of our work! If you're not happy with the work we perform on your property- we'll fix it... For Free or there is no charge for the service.  It's really that simple!
If you'd like an estimate for fertilizing your lawn or regular on-going lawn maintenance please give us a call (435) 559-4302 or fill out our contact form and we'll get right back to you.