Lawn Grub Prevention in Cedar City And Enoch Utah
Grub Larvae Prevention For Your Beautiful Lawn Areas
We specialize in eradicating these harmful lawn pests.
Lawn grubs – which are often Japanese Beatle larvae, love to live in the soil below your lawn eating grass roots.  The end result is a yard that is brown and looks unwatered or cared for.  If your lawn is suffering from a grub problem it will be often be most visible in the form of irregular sized brown patches that will peel away from your soil, this damage usually shows itself in the later summer or early fall.
The solution to a grub problem in your lawn is to apply a grub treatment, but only if it's determined to be necessary.
What To Expect From Our Lawn Fertilization & Weed Control + Grub Treatment Program:
We provide 6 liquid applications (March-October) roughly 5 weeks apart. Our average lawn (2900 square feet) cost $47.47 per application.
Each spray has 3-7 different products in it and is blended specifically for that time of year, for the grass types we have in the Cedar City area.
Included in one of the sprays is a preventative product to minimize the chances of having grub issues in your lawn.
At each visit we will spray the entire lawn, and let you know if we see areas of concern. From watering issues, to grub damage, to areas that need to be reseeded, we will communicate with you and let you know our recommendations. This program is designed to keep your lawn green, healthy, weed free, and thick. If that's what you're looking for this is likely a great option for your needs.
Cedar Lawn Care is a family owned and operated local lawn and garden maintenance company based out of Cedar City, Utah.  We specialize in treating lawns that have been infested with grubs and we also provide grub prevention services to protect against the problem in the future.  If you have well-cared for grass and lawn areas a grub problem is something you'll want to address quickly.  If you are unfamiliar with how to spot a grub problem in your lawn we are happy to come out and take a look for you.
Every year several of our clients have issues so we wish to help educate our clients about grubs, and the preventative steps that can be taken to stop the damage to their lawn before it occurs. Grubs can be devastating to your turf, but there is an effective preventative treatment available. We encourage all our clients to take advantage of this service.
6 Things you didn't know about lawn grubs
Few other pests present the same degree of danger to the well-being of your lawn as grubs.  By the time you notice there is a problem, wide-spread damage has already occurred on your lawn.
If you had grubs in the past, you are more likely to have them again.
The early larvae stage is when grubs are most voracious and do the most damage.
When beginning stages of damage are revealed, widespread irreparable damage has already occurred.
If you find more than 4 grubs per square foot you have an infestation problem.
When you have an infestation, your lawn WILL suffer significant damage, which often costs thousands of dollars to repair.
A lawn with grubs is an open invitation for unwanted wildlife that will destroy a lawn while feeding on grub larvae.
Grub worm prevention application must be applied in the month of MAY for best results. After this time period you cannot prevent grub worms, you can only kill them. At that point, the damage has already been done to your lawn.
Why Choose Cedar Lawn Care For Lawn Grub Treatment and Prevention?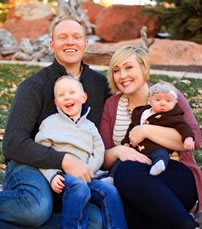 When you choose Cedar Lawn Care you are partnering with a small, locally owned and family run business.  We're large enough to take care of all your lawn pest control needs but we're still small enough to give your lawn the specific care and attention it deserves.
We believe in providing good value and complete customer satisfaction through a job well done.  Our employees are expertly trained and will conduct themselves like true professionals on your property.  You be the judge of our work! If you're not happy with the work we perform on your property- we'll fix it… For Free or there is no charge for the service.  It's really that simple!
It is necessary that you schedule your grub prevention service before the end of May. June and July are the months when the eggs are laid, and the preventative must be active in the soil so that they do not hatch.
If you'd like an estimate for lawn grub prevention or treatment please give us a call (435) 559-4302 or fill out our contact form and we'll get right back to you.